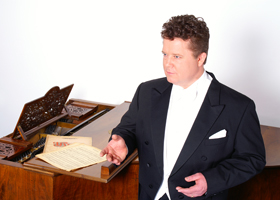 Romantic serenades sung by professional singers
Do you want to offer to your beloved the joy of a musical surprise for a special event? The team of Romantic ideas would be delighted to hire for you the services of a professional singer from Vienna who will sing a serenade only for your beloved wherever you want in Vienna!
In cooperation with the Viennese artist agency Austrian Artists, the team of Romantic ideas can hire for you the services of a Viennese singer who will sing only for your beloved whatever the place and the time of your date in Vienna. For a gift or an original surprise, a professional artist singing a romantique serenade to your beloved will let an unforgettable memory!
A serenade in Vienna
Our professional team can sing for you a serenade in a lot of romantic places in Vienna and in numerous opportunities, for example:
During a romantic dinner in the restaurant of your choice
During a ride on the Giant Ferris Wheel
During a ride in horse-drawn carriage through the city of Vienna
At your place or at the door of your beloved
Regarding the text of your romantic serenade, you have the opportunity to choose among a lot of famous love songs that will be sung by professional singers, men or women, - for example old members of the Vienna boys choir - and you can enjoy instrumental accompaniment if you want. You have also the possibility to book a gift token including the service of a professional singer who will make you marvel with a romantic serenade in a charming place. And if you prefer to create yourself a unique romantic serenade, our singers are available to help you to adapt famous love songs to your personal story with new lyrics, to match up with your desires and to let an incredible memory!
Book a romantic serenade in Vienna
In order to rent services of a professional singer who will sing a tailor-made serenade in Vienna, don't hesitate to contact the team of Romantic ideas by email. This is the information we need to make an offer adapted to your projects:
Which day would you like the service? Do you want to tell us a special date or would you prefer to book a gift voucher?
Have you already decided of the place where the service will take place? Have you chosen a special romantic place for the entry of our artist or would you prefer that we tell you some propositions?
For which event would you want the service of our professional singers?
Do you want to hire a singer man, woman or a duo to sing a serenade for your beloved?
Do you want an instrumental accompaniment for example with piano, organ, guitar or harp?
How many songs would you like the singer to sing for your beloved?
Have you got wishes and inquires concerning songs of the repertoire for your beloved?
Are you interested in a poetic text created only for you and for this special event?
For any question about the romantic serenades in Vienna, you can contact the team of Romantic ideas and the talent agency Austrian Artists by phone at the +43 1 966 02 61 or by email whenever you want at the following address: .